Introduction
Yongin University's Korean Language Institute was established in 2005 with the purpose of providing systematic educational programs for foreigners wishing to learn Korean language and Korean culture and to promote better understanding of Korean culture.
Education objectives
4 areas of language skills (reading, speaking, listening, writing) are taught intentionally, continuously and methodically to foreigners who wish to learn Korean so that it can be utilized in their daily lives.

Korean culture, history, social studies and others are taught for language learners to acquire Korean language and the competence to live and study in Korea.

Teaching and learning activities are offered from basics to in-depth length so that students can get employed while learning Korean language.
Education Methods
Lectures, experiential activities and relevant programs are conducted together through highly qualified faculties.

Various types of teaching methods are applied to so that foreign language learners can acquire 4 areas of language skills equally.

Presentations and debates are practiced for international students to exchange their points of view and they are able to discover new information and put knowledge into action.
Curriculum
Yongin University's Korean Language Program is comprised of 6 levels from Level 1 to Level 6, It has been designed for students to learn Korean effectively.

Students who have completed all the courses would be able to gain confidence in Korean and be equipped with Korean proficiency to take university lectures.
Operation plans
- Levels available

Beginner, intermediate, advanced

- Total period of classes

10 weeks (1 semester)

- Days of classes per week

Monday ~ Friday (5 days a week)

- Total hours of classes

150 hours (3 hours a day)
- Class time09:30 ~12:30
13:30 ~ 16:30
- Quota

Within 15 people
Key details of regular courses
Regular Korean language courses are established for foreigners who wish to enter Korean university and graduate school by studying Korean systematically or to become fluent in Korean for business or employment purposes.
Program objectives
1. Learn pronunciation of modern Korean language.
2. Learn vocabulary, grammar and expressions related to a daily life.
3. Cultivate the ability to express oneself From personal perspectives.
4. Understand the daily life and culture of modern Koreans.
5. Deeper understanding of Korean tradition and culture.
6. Understand modern Korea by visiting key historic sites and tourist spots.
Textbooks
1. 1, 2 textbook per each level
2. Other materials prepared by teachers conforming to the training purpose
3. Other audio-visual materials and multimedia materials
Teaching methods
1. Training based on integrated teaching methods utilizing various teaching methods to foster the communication skills of learners
2. Syllabus to cultivate the linguistic skills of learners together with the socio-cultural skills
3. Introduction of various methods for learning culture such as visits, experience and practical work
Culture experience and sports day
Provides an opportunity to experience Korea culture that would assist the correct understanding on the lives, folk and history of Koreans while learning Korean. Furthermore, 2 sports days are held in the first half and second half of the year for foreign students.


Welfare facilities
Global Reception Room
As a place for foreign students visiting the school, computers and media can be used.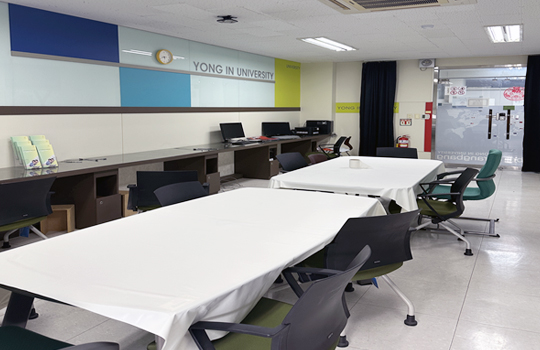 Dedicated lecture rooms for Korean language
Lecture rooms dedicated to Korean language has been installed for foreign students.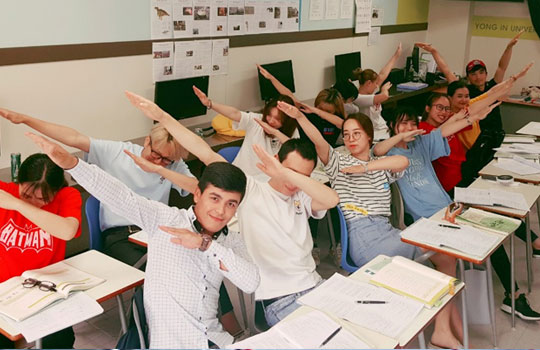 Contact Us
Korean Language Institute of International Affairs
Address: The 3rd floor of main building, 134, Yongindaehak-ro, Cheoin-gu, Yongin-si, Gyeonggi-do, KOREA
Phone: +82-31-8020-3205(Korean), +82-31-8020 3204(English)
FAX: +82 31-322-5088